StockCharts.com Candlestick Patterns
Candlestick Patterns of Market Participant Groups Explained
Within this article are "time progression" chart examples of one stock, to help readers focus on the candlestick patterns of Market Participant Groups and which one creates certain patterns in the charts. Therefore a portion of the chart has been covered in charts 1 & 2 creating a white space on the right side.
Candlesticks are a language unto themselves. It takes a bit of practice reading the candlestick patterns to be able to understand who is buying, where they are buying, and when they stop buying.
When studying just candlesticks you must also include Volume Bars as an indicator. This is because there are 3 pieces of data that come from every stock transaction which are the Price, Time, and Quantity (Volume) of shares that exchanged hands for that stock. All 3 pieces of data are required if you are going to do a proper and complete analysis.
All too often, Retail Traders think Volume Bars are unnecessary or unimportant. This comes from 40-50 years ago when Volume was not as easy to come by, as the market was all manual in those days. With the consolidated ticker tape now every trade is recorded precisely with Price, Time, and Quantity (Volume) stored for future reference. This makes StockCharts.com charting software totally reliable for analyzing stocks as the data is pure, cleaned, and verified.
When reading the broad aspect of price using candlesticks, start from the left and move to the right of the chart. This analysis is not about "finding a stock to trade," that is the super easy part of trading using scans.
Candlestick Pattern Analysis is about understanding the relationship between the Candlesticks and Volume Bars in a chart so that a clear picture of what is going on appears.
The chart example below has a huge gap down, then a candlestick with a long wick and a small white body. Volume has spiked to the top of the Volume Bars indicator window, on unusually high red or down day Volume.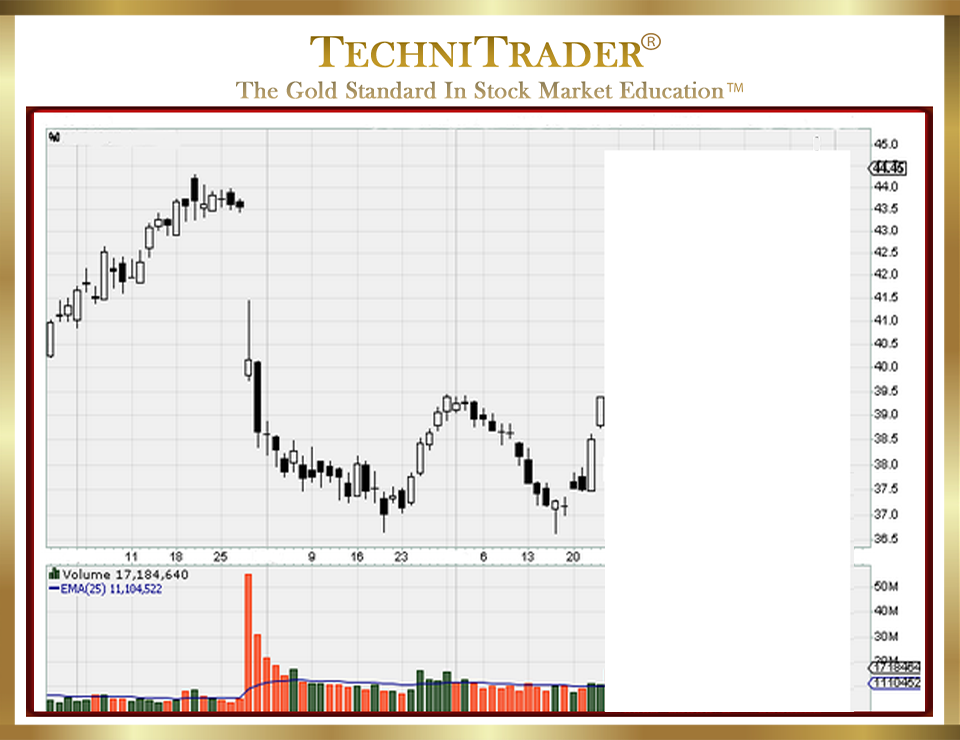 This is a High Frequency Trading Firms Market Participant Group footprint and should be obvious on any chart. This was preceded by a runaway trendline pattern which was speculative. Usually this type of gap is either news or an earnings gap, however High Frequency Trading can also trigger in the wrong direction.
(See 2 more chart examples of same stock in time progression sequencing with explanations on TechniTrader.com, follow the link.)
Sign Up to READ MORE at TechniTrader.com
Trade Wisely,
Martha Stokes CMT
TechniTrader technical analysis using StockCharts charts, courtesy of StockCharts.com
Chartered Market Technician
Instructor & Developer of TechniTrader Stock & Option Courses
Copyright ©2017-2018 Decisions Unlimited, Inc. dba TechniTrader. All rights reserved.
TechniTrader is also a registered trademark of Decisions Unlimited, Inc.