Position Trading Stocks for Extra Income
A Better Way to Trade Stocks

When someone thinks about trading stocks, most of the time, either Day Trading or Swing Trading pops into their head. However, many people do not have the time or the desire to sit at a computer or even on their phone trading stocks every day of the week.
There is a better and easier way to make extra income during your retirement, if you are a stay-at-home parent, or you just enjoy trading stocks but don't want to make it a full time job.
What you are about to learn is a Trading Style that actually makes significantly higher profits than Day Trading or Swing Trading and requires only a few hours a week.
This means instead of spending your retirement or your day on the computer, you can be enjoying life more.
It is called Position Style Trading. At TechniTrader we do not teach what is often called "positional" trading or other misused terms, but a buy to hold for a few weeks to a few months. This is in order to take advantage of the slow and steady Dark Pool Quiet Accumulation which consistently drives stock prices upward, until High Frequency Traders take over and the stock rises to an extreme high. This steady incremental buying offers the lowest risk entries with excellent profits over a timeframe that is between a Swing Trade and a long-term investment.
TechniTrader Position Style Trading is easy to learn and most beginners can start trading stocks far more rapidly with this style than with Day Trading. Position Traders tend to have the kind of success that most beginner Day Traders only dream about. It is also a good way for people who have been strictly long-term investors to transition to shorter-term trading.
Setups for Position Style Trading are simple, straightforward, and do not require extensive technical expertise. Summer is an ideal time for Position Style Trading as Dark Pools tend to start their Quiet Accumulation for the fall activity during the quieter summer months. There is less volatility and speculation in the summer, when many stocks are developing bottoms after a Market Correction.
Below is a good example of a stock that had a Position Style entry in the summer. An entry between $45-48 provided a low risk entry with a high profit target gain potential. The exit was as High Frequency Traders and speculators drove the price up to $117.00. This stock more than doubled its price in under 6 months. Many Position Style Trades are held between 2-6 months.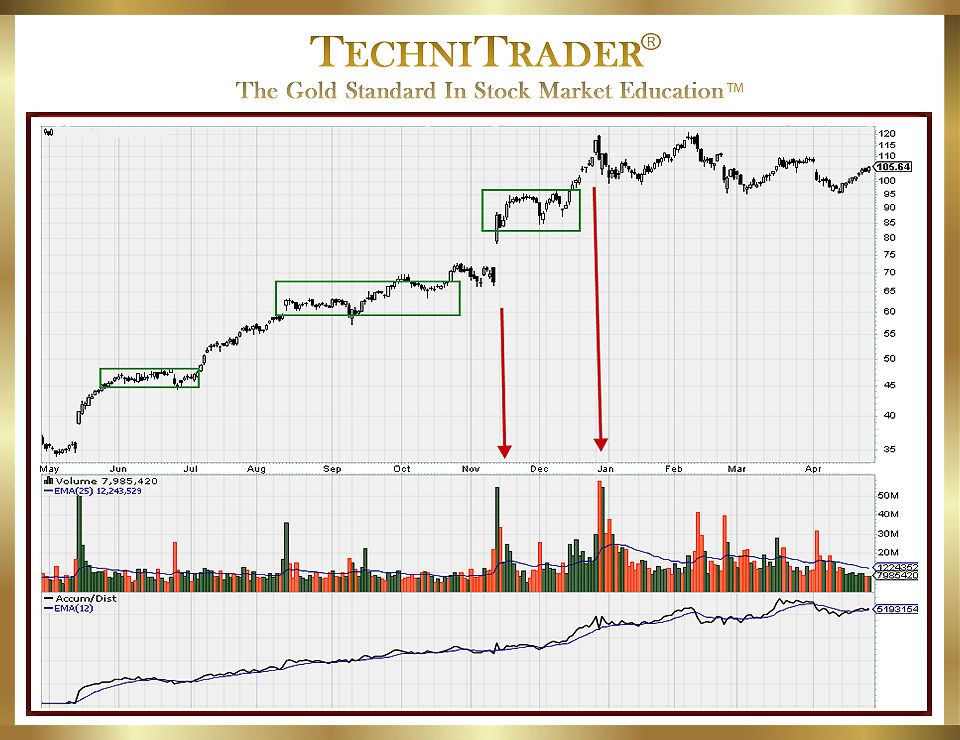 Sign Up to READ MORE at TechniTrader.com
Trade Wisely,
Martha Stokes CMT
TechniTrader technical analysis using a StockCharts chart, courtesy of StockCharts.com
Chartered Market Technician
Instructor & Developer of TechniTrader Stock & Option Courses
Copyright ©2017-2019 Decisions Unlimited, Inc. dba TechniTrader. All rights reserved.
TechniTrader is also a registered trademark of Decisions Unlimited, Inc.