How to Use Bollinger Bands® Indicator in MetaStock Charts
Add Volume Indicators for Direction Stock Will Move
The Bollinger Bands Indicator has been gaining in popularity in the past couple of years. This is no surprise given the changes in the Market Structure and how price behaves with more of the Exchanges, Dark Pool Alternative Trading Systems, Electronic Communication Networks and other orders now automated.
Bollinger Bands offer a highly visual method of seeing the compression patterns that occur before breakouts of significant magnitude. This indicator also helps those Retail Traders who are still struggling with Spatial Pattern Recognition Skills™ and have trouble recognizing whether at stock is still trending up or down, or if it has shifted sideways. The sooner a Retail Trader can identify a sideways shift the better as sideways patterns require different entries, stop losses, and exit strategies.
It is important that you maintain a good ratio on the candlestick stock chart so that the Bollinger Bands are properly displayed. Many times Retail Traders attempt to use too many indicator windows on one template layout. Be sure that the height and width ratios are close to the Golden Mean ratios.
Bollinger Bands make it far easier to determine if a Platform is underway, or if it is a wider Sideways candlestick pattern developing, or if it is a Trading Range pattern.
Below is a chart example of a stock that had been in a Trading Range pattern over a few months, then had a High Frequency Trader velocity run.
The current compression shows nearly perfect horizontal Bollinger Bands on both the upper and lower band, indicating that price is compressing inward equally from highs and lows. This is a powerful price pattern that is often missed by novice Retail Traders.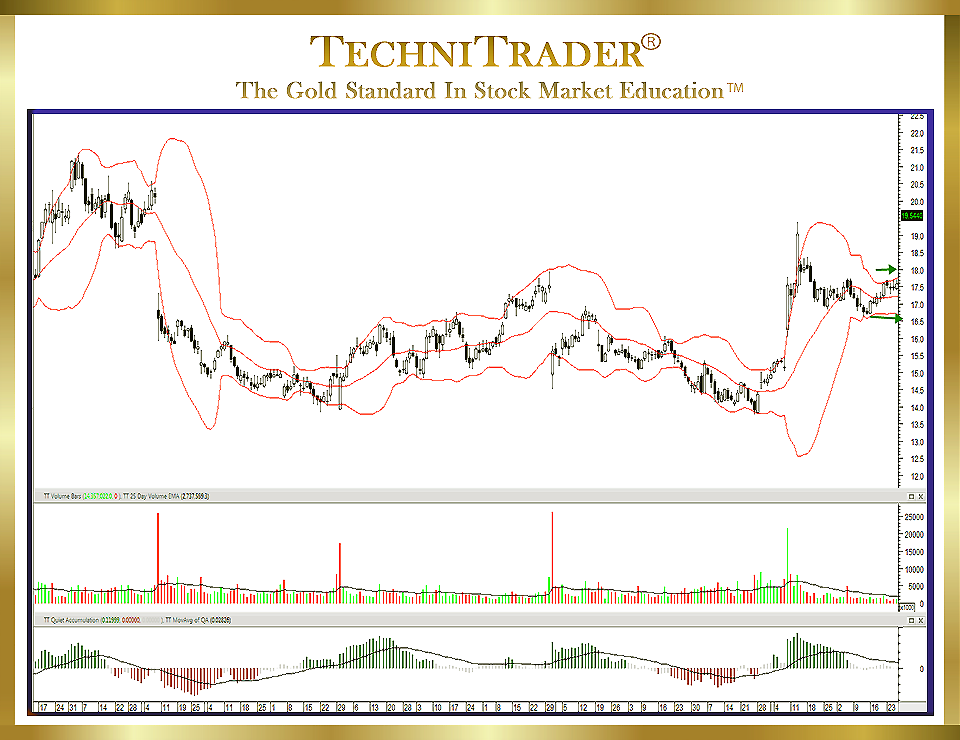 Sign Up to READ MORE at TechniTrader.com
Trade Wisely,
Martha Stokes CMT
TechniTrader technical analysis using MetaStock charts, courtesy of Innovative Market Analysis, LLC dba MetaStock
Chartered Market Technician
Instructor & Developer of TechniTrader Stock & Option Courses
Copyright ©2017-2019 Decisions Unlimited, Inc. dba TechniTrader. All rights reserved.
TechniTrader is also a registered trademark of Decisions Unlimited, Inc.