How to Identify Stock Tops Early for a Market Correction
Dark Pool Quiet Rotation™ Candlestick Patterns Precede Tops
One of the challenges of a Market Correction is identifying stock tops early, as they often creep up on traders unexpectedly. They are surprised too often by a sudden sell-off, blaming news or an event for the selling rather than recognizing that the stock charts were showing signs of weakness long before the big decline.
The candlestick chart example below formed a "Rounding Top Candlestick Pattern", which is one of many new topping patterns traders do not recognize early.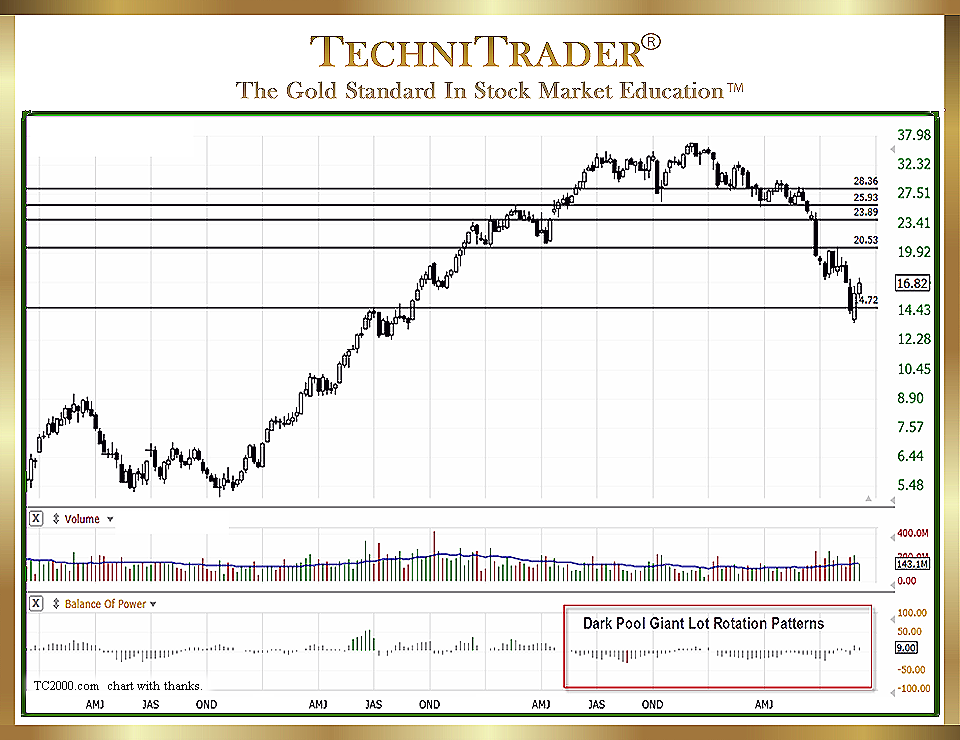 This is because they are not tracking the giant Buy Side Institutions using Dark Pools whose rotation patterns precede most tops, which is most important in identifying stock tops early.
Dark Pool Quiet Rotation by giant Buy Side Institutions is not visible in price candlestick patterns, but it is evident in large-lot versus small-lot stock indicators.
All throughout the first few months of this top, Dark Pool Quiet Rotation was going on consistently. This was an early warning that this stock was at risk of a serious Market Correction. The stock broke to the downside after the Dark Pool Quiet Rotation pattern ended.
Unfortunately for traders who only use Price and Time Indicators, the Dark Pool Quiet Rotation was invisible. Runs that appeared to be taking the stock up to a new high quickly failed, causing losses on trades entered at that time.
Stock charts often reflect things that are missed by Retail Traders who have learned only the basics such as a MACD indicator crossover signal, specific candlestick patterns, or a Stock Trading Strategy.
LEARN MORE at TechniTrader.Courses
Trade Wisely,
Martha Stokes CMT
TechniTrader technical analysis using a FreeStockCharts chart, courtesy of Worden Bros. and FreeStockCharts.com
Chartered Market Technician
Instructor & Developer of TechniTrader Stock & Option Courses
Copyright ©2015–2023 Decisions Unlimited, Inc. dba TechniTrader. All rights reserved.
TechniTrader is also a registered trademark of Decisions Unlimited, Inc.