What Is a Low-Risk Stock Entry Candlestick Pattern?
Bottoming Formation When a Stock Stops a Downtrend
Trading Stocks is becoming an alternative career for many people. It offers a variety of opportunities and advantages that working for a corporation does not. The first step in learning how to trade stocks successfully is to understand what you need to do to trade a stock for short-term profits.
Below is a chart that is showing what is called a "Bottom" or Bottoming Stock Candlestick Pattern Formation, which is when a stock stops a downtrend. This is when it begins a recovery returning to moving in an uptrend, which is what traders want to trade for short-term profits.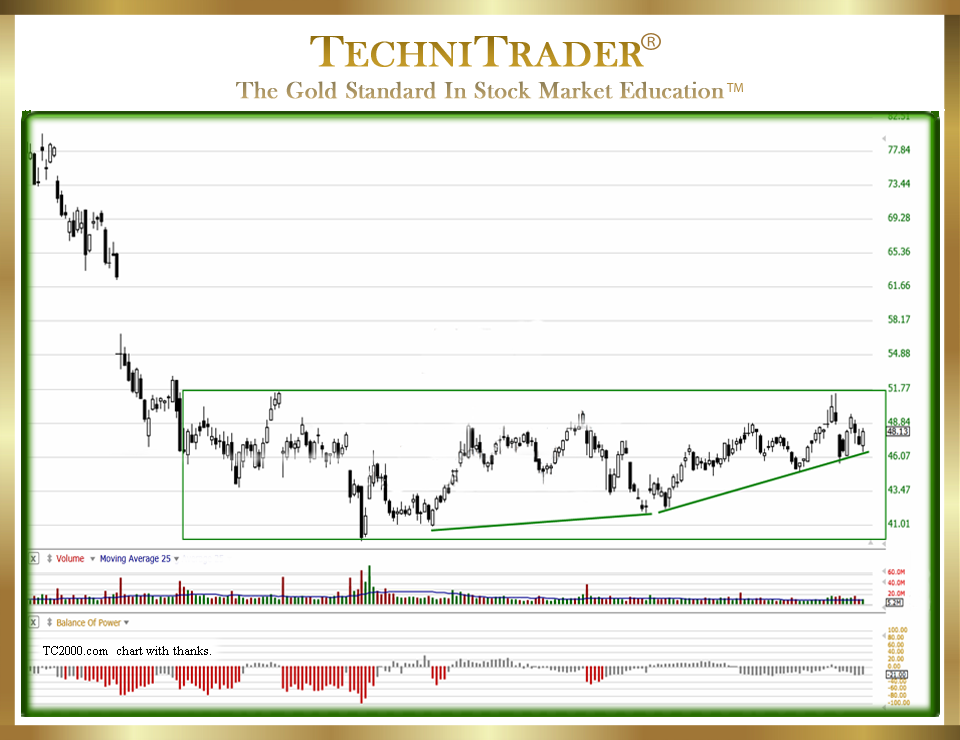 Trading a stock for short-term profits requires finding a stock that is poised to move up in price, but that also has what is called a "low-risk entry". What is meant by a "low-risk entry" is how the price has moved in recent days.
There are candlestick chart patterns that tell you when a stock is ideal for buying with a low risk.
Risk is calculated by the use of a Stop Loss, which protects your capital and profits should the market suddenly go down.
You will also need to learn how to read a candlestick chart with accuracy. A stock chart is merely a historical set of data that shows how the price moved and how many traders or investors bought the stock during that period of time.
How to trade stocks successfully means you are able to read the chart correctly. It will tell you which Stock Market Participant Groups were buying the stock, and this is critically important information.
The chart above also shows resistance, which is where the stock will either stop moving up and move sideways or retrace which is a brief period of price moving down.
LEARN MORE at TechniTrader.Courses
Trade Wisely,
Martha Stokes CMT
TechniTrader technical analysis using a FreeStockCharts chart, courtesy of Worden Bros. and FreeStockCharts.com
Chartered Market Technician
Instructor & Developer of TechniTrader Stock & Option Courses
Copyright ©2017–2023 Decisions Unlimited, Inc. dba TechniTrader. All rights reserved.
TechniTrader is also a registered trademark of Decisions Unlimited, Inc.