Earnings Season Trading Strategies for StockCharts.com Users
How to Choose the Best Earnings Season Strategy
The Best Earnings Season Trading Strategy will not be the commonly used momentum strategies but a newer type of analysis focused more on what is exposing over and under performance in stocks. This can easily be seen in most stock charts with the right indicators and price analysis tools. A factor that charts reveal easily is when earnings and revenues diverge.
Looking at the stock charts of those firms that have reported earnings, a common price to large lot relational analysis is evident. You don't even need to know the earnings report results. The facts are clearly stated in the stock chart with analysis of the price to large lot activity.
In the chart example below prior to the release of the earnings report, this stock had been heading down in a slip slide pattern with intermittent small lot investors buying on the dip into a correction phase.
Even before the earnings report was released, large lot activity had shifted strongly to the downside, topping the stock. The problem is not Earnings Per Share; it is revenues, which are steadily declining quarter over quarter. This results in rising rotation by Dark Pools as they lower their inventories for this stock well ahead of the earnings report. Meanwhile retail investors and retail traders who are unaware of the discrepancy between earnings and revenues, are buying this stock as a buy-on-the-dip strategy, one of the oldest trading strategies for retail investing.
The chart example shows Dark Pool Quiet Rotation™ began after the last earnings report. Some smaller funds bought the stock as it hit a new all-time high. Indications for selling short this stock appeared in the chart well ahead of the earnings report release date. The risk of a High Frequency Trader trigger is increasing as it heads toward a weak support level.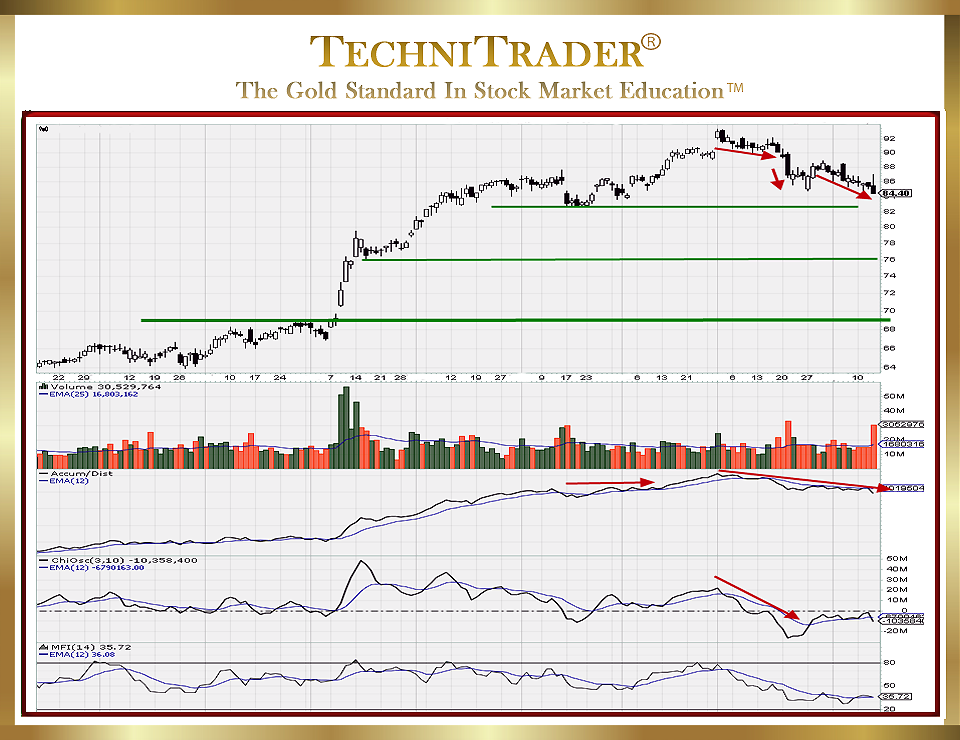 Sign Up to READ MORE at TechniTrader.com
Trade Wisely,
Martha Stokes CMT
TechniTrader technical analysis using StockCharts charts, courtesy of StockCharts.com
Chartered Market Technician
Instructor & Developer of TechniTrader Stock & Option Courses
Copyright ©2017-2018 Decisions Unlimited, Inc. dba TechniTrader. All rights reserved.
TechniTrader is also a registered trademark of Decisions Unlimited, Inc.