What Is the Market Update for Swing Trading and Day Trading?
They Are Affected by Changes to High Frequency Trading Regulations
The Securities and Exchange Commission is considering a Test Pilot Program to initiate a study to determine if the High Frequency Trading "Maker-Taker" role is creating predatory and unfair trading practices. This test program was initiated by complaints from the Buy Side Institutions.
The 1-minute intraday stock chart example below shows the effect of High Frequency Trading activity in premarket order flow, which is a huge gap up at market open.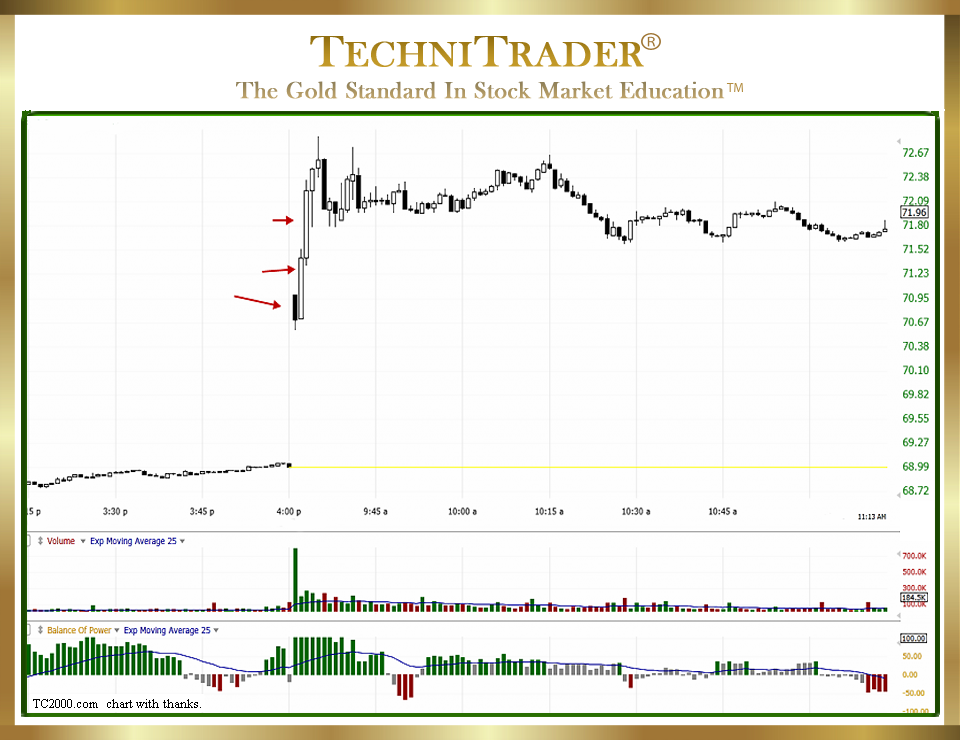 The High Frequency Traders HFT generally trade within 5 minutes of market open but are not active at all for the remainder of the day. Therefore, any liquidity they may offer as Maker-Takers is only present for a few minutes of the trading day. This may change if the Securities and Exchange Commission changes the rules governing High Frequency Trader HFT activity.
Maker-Taker is a term used to describe an agreement between an exchange and a High Frequency Trader HFT or other liquidity provider. Maker refers to "making a market," which is buying or selling whenever there is a significant number of buyers or sellers on one side of the market. The imbalance between buyers and sellers can harm the efficiency of the market and that is why there are Market Makers. Takers remove liquidity from the market.
High Frequency Traders HFT are mostly Maker-Takers and as such are not required to Make a Market, aka buy or sell shares of stock when there is an imbalance of orders. This may be providing the opportunity for predation, which the Securities and Exchange Commission intends to discover with its new Test Pilot Program.
Sign Up to READ MORE at TechniTrader.com
Trade Wisely,
Martha Stokes CMT
TechniTrader technical analysis using a TC2000 chart, courtesy of Worden Bros.
Chartered Market Technician
Instructor & Developer of TechniTrader Stock & Option Courses
Copyright ©2017–2021 Decisions Unlimited, Inc. dba TechniTrader. All rights reserved.
TechniTrader is also a registered trademark of Decisions Unlimited, Inc.