How to Use Balance of Power Indicator in Era of President Trump?
Changing the Landscape of Professional Technical Trading
The Balance of Power indicator continues to prove its astounding value as the premier large lot indicator for trading stocks. The Balance of Power indicator has actually become a far more useful and valuable indicator in the past decade as more and more liquidity flows through the Dark Pool Venues, which are off the exchanges and hidden from the view of Retail Day Traders and Retail Broker Systems.
Where once the Balance of Power indicator rarely turned color or had high bars on the major indexes, now even these more complex charts reveal the hidden world behind the scenes of the Stock Market.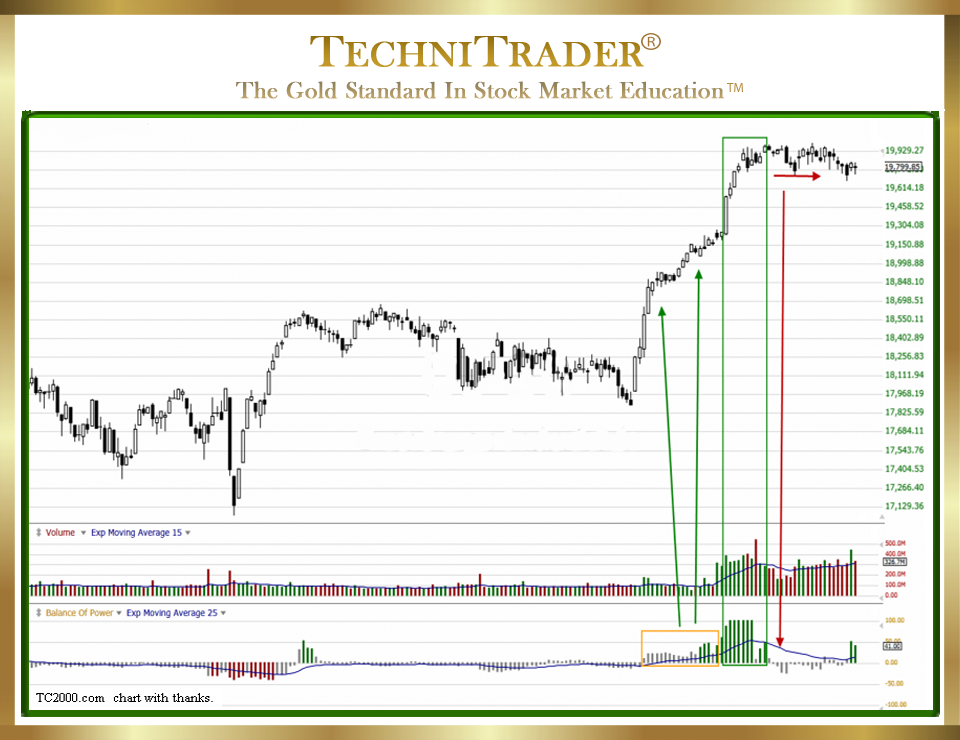 The chart above is an example of Relational Technical Analysis™ with the Balance of Power indicator.
Professional Proprietary Traders are adapting and changing Technical Analysis as President Trump and the new White House agenda alters the direction of the financial markets.
To keep up with these massive changes, Retail Technical Traders need to understand how to use TC2000.com indicators and charts to properly interpret the Dark Pools Time Weighted Average Price orders, Smaller Funds Volume Weighted Average Price orders, and High Frequency Traders HFT price and quantity patterns.
The Balance of Power indicator's histogram variations and subtleties can aid trained Technical Traders in determining whether a Time Weighted Average Price order or Volume Weighted Average Price order is triggering. This is a key factor in getting into a trade earlier for higher profits.
By studying the Balance of Power indicator in the index chart example, the Price action and stock Volume action are far more easily understood. Who controls price is obvious and easy to recognize when you know which patterns to look for.
Sign Up to READ MORE at TechniTrader.com
Trade Wisely,
Martha Stokes CMT
TechniTrader technical analysis using a TC2000 chart, courtesy of Worden Bros.
Chartered Market Technician
Instructor & Developer of TechniTrader Stock & Option Courses
Copyright ©2017–2021 Decisions Unlimited, Inc. dba TechniTrader. All rights reserved.
TechniTrader is also a registered trademark of Decisions Unlimited, Inc.