What Are 5 Things to Know When Trading Stocks?
Includes Recognizing the New Topping Formations
The key to making the type of income Professional Traders take for granted is not just having a top-notch charting and brokerage system, but it is also about selecting the best stock or stocks to trade that the market has to offer at that point in time. In other words, mediocre stock picks will result in mediocre results regardless of what charting software or brokerage you use. It is not in the gadgets, features, or new bells and whistles. Yes, those features do streamline your workload, but if you don't learn how to find the best stocks to trade, then none of that matters.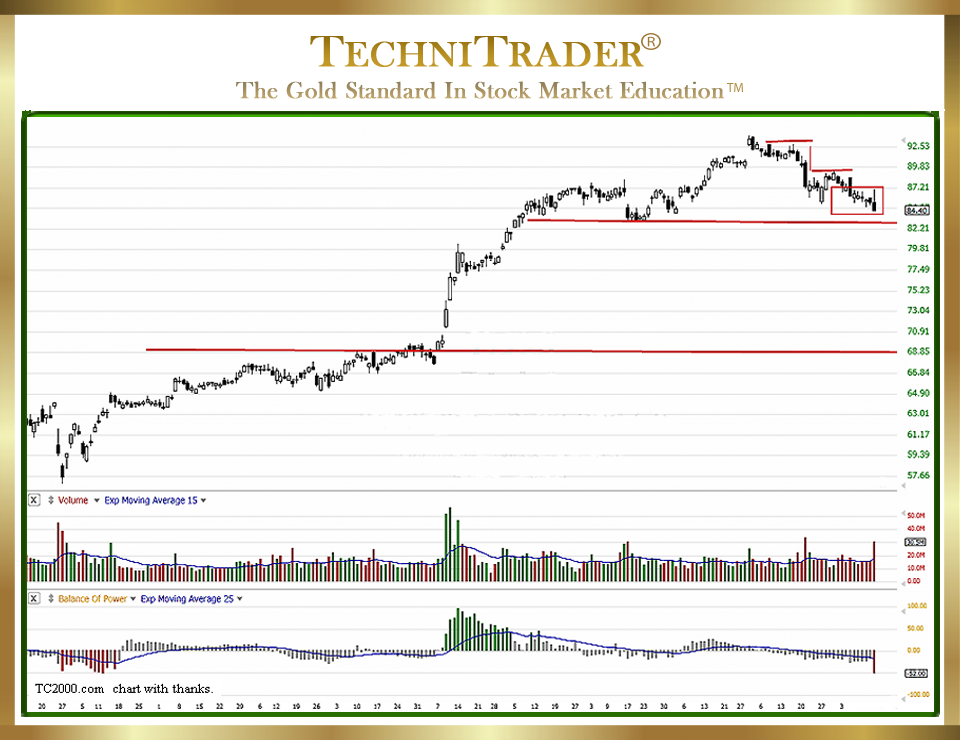 5 Things to Know When Trading Stocks
1. New Topping Formations
These new tops are totally different than the older topping formations you learned when you first started trading.
The New Tops show up because of the changes to the professional-side trading venues, routing sequencing, stock order types that are far more sophisticated, and access to information.
The chart example above shows one of the newer types of tops that are often missed by Retail Traders. Dark Pool Quiet Rotation™ is evident in Balance of Power (BOP) and stock Volume as giant Buy Side Institutions quietly sell off inventories of this stock as smaller-lot buyers buy on speculation and emotional news.
2. New Bottoming Formations
Most new bottoms form more quickly and offer excellent entries for Day Trading, Swing Trading, and Options Trading. Your TC2000 charting software has all the tools, candlesticks charts, indicators, etc. to give you this information. But you need to know what the new bottoms look like AND who is creating those bottoms: Dark Pools, Professional Traders, or pre-High Frequency Trader (HFT) action?
3. Changes to Professionals' Stock Order Types, Trading Venues, Trading Platforms, and Routing Systems
Professionals once again have the upper hand in many ways. Most Retail Traders are not keeping up with how the Professionals' changes affect their own retail-style strategies, order execution, entries and exits, where to place stop losses to avoid whipsaw action, and more.
LEARN MORE at TechniTrader.Courses
Trade Wisely,
Martha Stokes CMT
TechniTrader technical analysis using a TC2000 chart, courtesy of Worden Bros.
Chartered Market Technician
Instructor & Developer of TechniTrader Stock & Option Courses
Copyright ©2017–2023 Decisions Unlimited, Inc. dba TechniTrader. All rights reserved.
TechniTrader is also a registered trademark of Decisions Unlimited, Inc.