Why Identify Dark Pool Footprints for Momentum Trades?
Find Great Swing Trading Picks for High Profits
"Dark Pools" is a term used to describe the largest Buy Side Institutions who control vast quantities of long-term investment money. Their Alternative Trading System (ATS) venues are off the exchanges. They are hidden from the Retail Trader who trades via a broker or an Electronic Communication Network (ECN), and their activity is often delayed until after the market closes. This is a huge part of the market with over 40 Alternative Trading Systems available to the Dark Pools.
The candlestick chart example below definitely had the Dark Pool footprint. It formed a Flat Top Candlestick Pattern on the daily short-term trend after a momentum run out of a prior High Frequency Trader (HFT) run down. This top slid price down rather than gapping it down. The short-term Rounding Candlestick Pattern bottom formation is indicative of an accumulation mode by Dark Pools trading off the exchanges.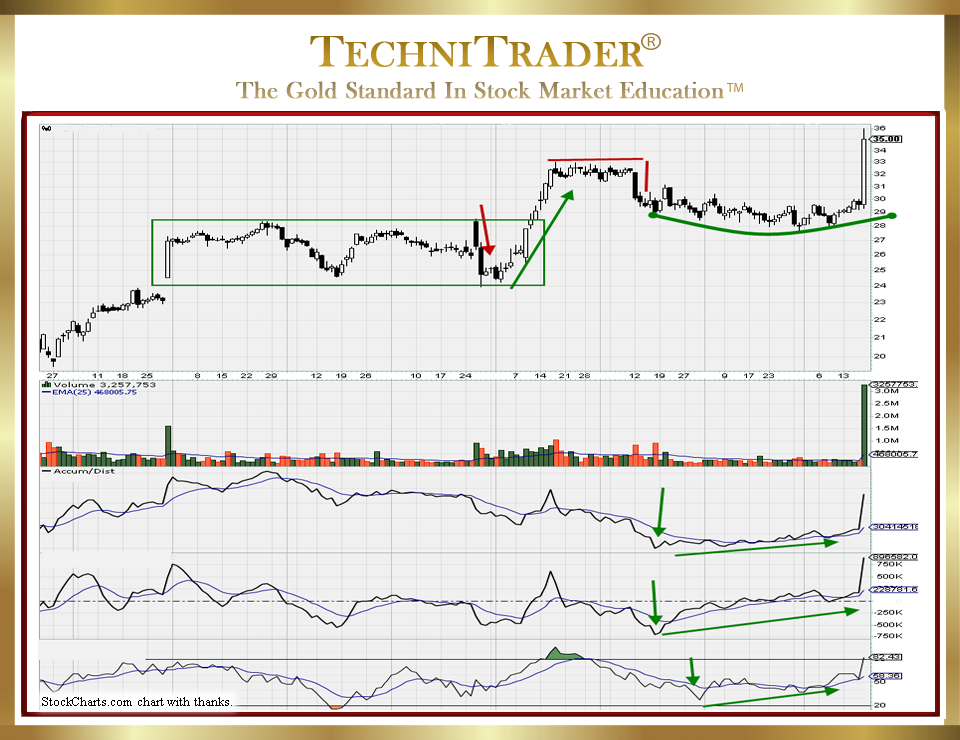 The Institutional Investors' tracking indicators show early on a V-Bottom Formation, which is the wake-up call for Technical Traders to start watching this bottom more closely. Professional Traders enter toward the end of the Rounding Bottom Candlestick Pattern, completing the rounding shape quickly. Then, the Institutional Investors' tracking indicators all confirm that Dark Pool Quiet Accumulation is steady and consistent. High Frequency Traders discover the liquidity draw and run the stock up quickly at market open for a huge one-day gain.
Tracking Dark Pool activity via your charting software is something every Retail Trader and Technical Trader needs to learn. However, it requires a shift of mindset away from the theory that "Price is the most important indicator" to "stock Volume tracks the Dark Pools".
LEARN MORE at TechniTrader.Courses
Trade Wisely,
Martha Stokes CMT
TechniTrader technical analysis using a StockCharts chart, courtesy of StockCharts.com
Chartered Market Technician
Instructor & Developer of TechniTrader Stock & Option Courses
Copyright ©2017–2023 Decisions Unlimited, Inc. dba TechniTrader. All rights reserved.
TechniTrader is also a registered trademark of Decisions Unlimited, Inc.