How to Use and Interpret a Center Line Oscillator
Moves in Opposition to Price During Volatile Market Conditions
Most Technical and Retail Traders are familiar with high and low range oscillators or what is often called an Overbought or Oversold Oscillator. However, few really understand or use a Center Line Oscillator, which is extremely useful during Volatile Market Conditions when large to giant-lot Stock Market Participant Groups are trading the opposite side of the market from smaller-lot Stock Market Participant Groups which is what creates volatility most of the time.
See the candlestick chart example below.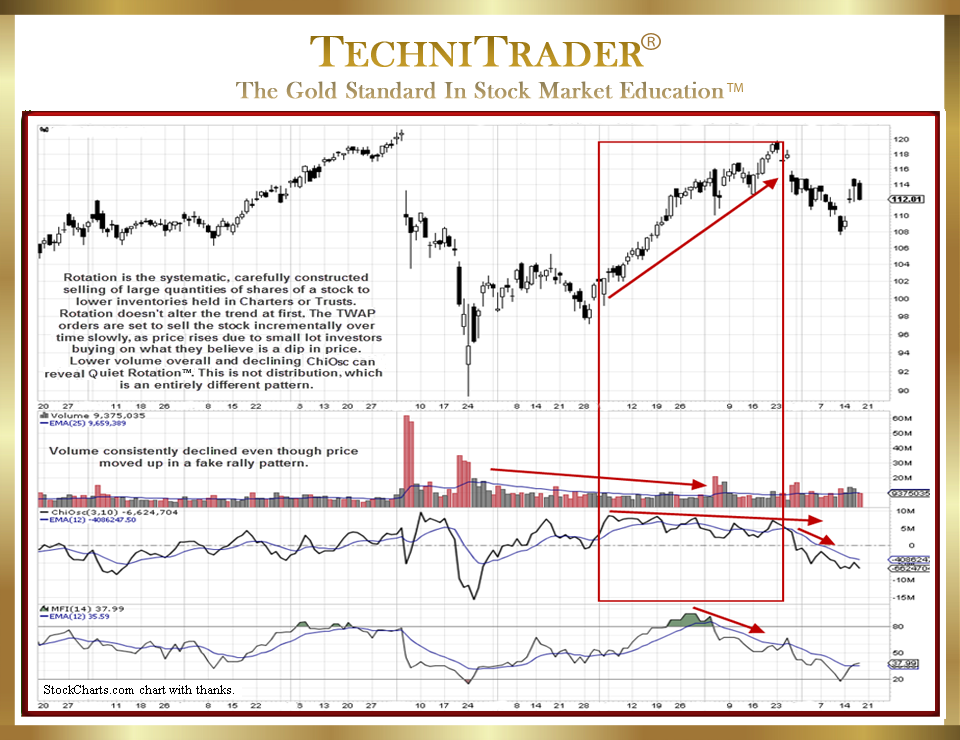 Understanding the relationship between the larger-lot institutional activity and the small-lot activity of the retail crowd helps guide traders toward trading with the larger lots rather than against them. This reduces whipsaw losses, weaker trades, and frustration.
At all times, Technical and Retail Traders should know which Stock Market Participant Groups are in control of price, as this information relates to how price will behave in the near term for Intraday Trading, Day Trading, Swing Trading, and Position Trading.
The Chaikin Oscillator (ChiOsc) is a Center Line Oscillator, and it has the ability to move in opposition to price. This is one of the key benefits of any oscillator that uses a center line. When using these oscillators, Technical Analysts are not looking at Overbought vs. Oversold conditions of price on the Short-Term or Daily Trend.
LEARN MORE at TechniTrader.Courses
Trade Wisely,
Martha Stokes CMT
TechniTrader technical analysis using a StockCharts chart, courtesy of StockCharts.com
Chartered Market Technician
Instructor & Developer of TechniTrader Stock & Option Courses
Copyright ©2015–2023 Decisions Unlimited, Inc. dba TechniTrader. All rights reserved.
TechniTrader is also a registered trademark of Decisions Unlimited, Inc.