Indicators reveal Dark Pool Quiet Rotation
Giant Buy Side Institutions Dark Pool Candlestick Patterns
Dark Pools are used to hide giant lot orders from Buy Side Institutions, and to ensure when the giant lot orders are triggering there is no major disruption of the current trend. The Securities and Exchange Commission SEC has investigated the practices of giant Buy Side Institutions using Dark Pools, and it has been proven that they are not getting any price advantage.
Go to the TechniTrader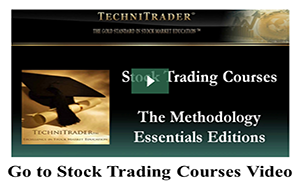 If you are a beginner trader, this is critical information to learn. If you traded during the 1990's and before 2005, then this is even more important. The use of Dark Pools is a major Market Structure change that has altered everything you would have learned previously about trading stocks, and continues to change price and volume patterns today.
The following are 3 major Buy Side Institution Dark Pool candlestick patterns to learn:
Dark Pool Quiet Rotation Patterns™
Dark Pool Quiet Accumulation Patterns
Dark Pool Quiet Distribution Patterns
Most traders learn "Accumulation and Distribution" candlestick patterns, which are broad terms not clearly defined. Unfortunately QUIET is very different now with Alternative Trading Systems venues. The term "quiet" means it is not visible in the chart unless you use specific indicators, and KNOW what to look for in price action.
Many Retail Traders are prone to sticking with outdated Methodologies, Strategies, and Trading Systems so it is a leap of faith for them to accept the new reality of stock trading. However until you learn the Dark Pool candlestick patterns, trading profits are likely to be a disappointment.
Go to the TechniTrader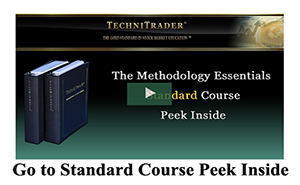 The Dark Pool Quiet Rotation Pattern differs from Quiet Distribution. The term Quiet Distribution refers to a mandatory selling of shares of stock held in trusts and charters. Giant Funds Managers of Buy Side Institutions do not wish to sell the stock, but are forced to do so based on sudden huge redemption demands by their uninformed Mutual Fund Investors. Distribution dumps a huge amount of stock for sale suddenly, removing money from the Stock Market so there is an outflow of monies aka funds.
Rotation is always quiet these days and well hidden from view, and eventually it may cause a topping action. Quiet Rotation does not remove monies from the Stock Market. The Giant Funds Managers are merely moving money around from one stock to another.
The chart example below has been under Quiet Rotation for some time.
The TC2000 Chart Indicators that reveal Dark Pool Quiet Rotation are Time Segmented Volume TSV and Money Stream MS. Time Segmented Volume is a Volume Oscillator in the middle chart window, which clearly reveals a contrarian Volume pattern, and that Volume is heavier now on the sell side than on the buy side.
MoneyStream MS in the bottom chart window, and reveals that the flow of money into this stock is not keeping up with the fast pace of the Retail Traders and the Smaller Funds. Both of these Market Participant Groups trade like they belong on the retail side of the market, rather than on the professional side.
The giant Buy Side Institutions use these two Market Participant Groups as a cloak to hide their Dark Pool Quiet Rotation Patterns. By not disturbing the trend but allowing the stock to climb higher due to Retail Traders and Smaller Funds buying patterns, the giant Institutions actually benefit as they sell hidden on their Dark Pool Alternative Trading System venues.
Summary
Time Segmented Volume TSV the Volume Oscillator, starts heading down and diverging contrarily from the price action which is a critical point all traders need to recognize. Sure you can trade the stock as it moves up, however if you are not aware of the heavy Quiet Rotation out of this stock, a buy into this stock could end up being a serious major loss. This stock gapped down after barely rising above prior resistance.
The MoneyStream MS Indicator lags behind price, which is moving with speculative emotional buying by smaller lots.
Go to the TechniTrader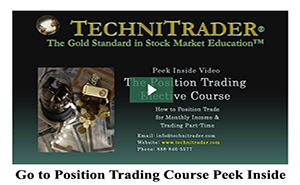 Trade Wisely,
Martha Stokes CMT
TechniTrader technical analysis using a TC2000 chart, courtesy of Worden Bros.
Chartered Market Technician
Instructor & Developer of TechniTrader Stock & Option Courses
Copyright ©2017-2018 Decisions Unlimited, Inc. dba TechniTrader. All rights reserved.
TechniTrader is also a registered trademark of Decisions Unlimited, Inc.