Why Does Time Segmented Volume Indicator Lead Price?
Has a Unique Cumulative Formula Rather Than Average-Based
Time Segmented Volume (TSV) is a rare stock Volume Oscillator which provides leading indicator signals that are invaluable to short-term trading of stocks. Applicable styles of trading include Swing Trading, Momentum Trading, Position Trading, and Day Trading. As the Market Structure has changed exponentially in the past decade, Time Segmented Volume has become an even more powerful Worden Bros. TC2000 indicator for leading stock price movement.
When a stock Volume Indicator "leads price", it is often diverging, or moving in the opposite direction of price. This leading quality of Time Segmented Volume is one of its best features.
See the chart example below.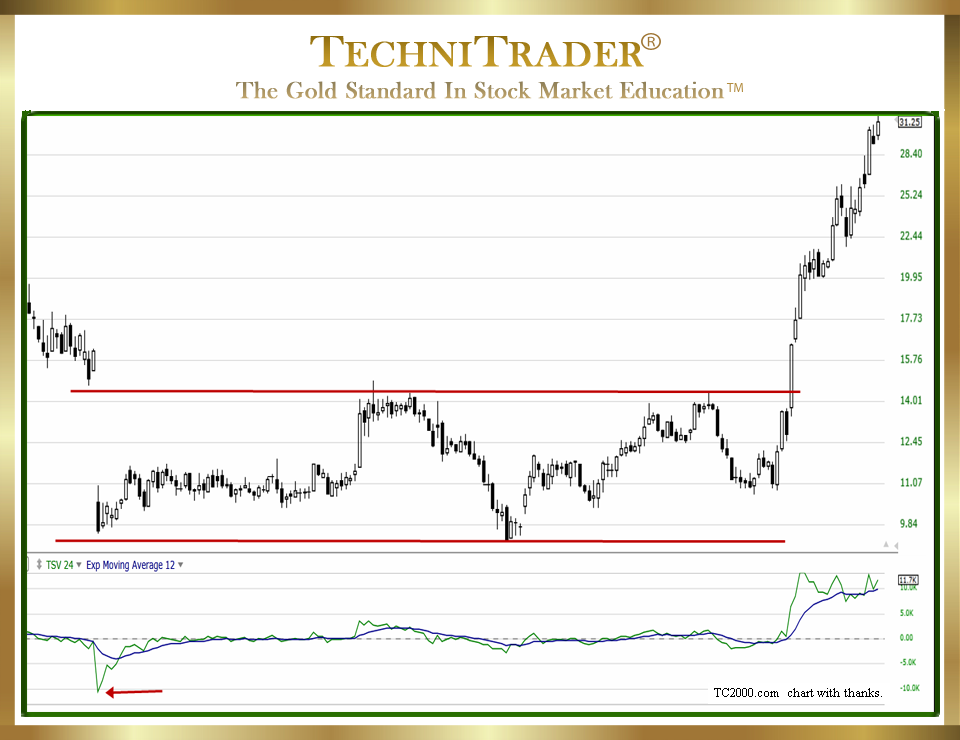 One of the many signals that are vital to Retail Traders is the Spiking V-Bottom Time Segmented Volume Formation. This signals that stock Volume has exhausted to the downside. It also signals that Dark Pool Quiet Accumulation halted the sell-off as the giant Buy Side Institutions using Alternative Trading Systems (ATSs) began their hidden accumulation.
A red arrow points to the V spike to the bottom of the chart indicator window for the Time Segmented Volume indicator. The red lines show the Dark Pool Quiet Accumulation range of price aka Dark Pool Buy Zone™ that the giant Buy Side Institutions were using for buying this stock. They tend to accumulate for several weeks to several months. It is common for Time Segmented Volume to waffle around its center line during lengthy Dark Pool Quiet Accumulation. Professional Traders often begin to pick up the liquidity draw that is hidden in the Dark Pool venues. They tend to move price with strong momentum, which occurred in this stock.
Time Segmented Volume has many signal patterns you can learn. As you become more familiar with its subtler signal nuances, its leading qualities can help you enter the stock sooner in a run and exit almost at the high of the run. The leading signal patterns of Time Segmented Volume are easily seen once you know what to look for and how to understand the dynamics of Time Segmented Volume and the intent of the indicator writer.
LEARN MORE at TechniTrader.Courses
Trade Wisely,
Martha Stokes CMT
TechniTrader technical analysis using a TC2000 chart, courtesy of Worden Bros.
Chartered Market Technician
Instructor & Developer of TechniTrader Stock & Option Courses
Copyright ©2017–2023 Decisions Unlimited, Inc. dba TechniTrader. All rights reserved.
TechniTrader is also a registered trademark of Decisions Unlimited, Inc.