How to Use Dark Pools for Higher Profits
Identify Quiet Accumulation Candlestick Pattern Before Stock Runs
An area of Technical Analysis that has not made its way into most Stock Market books, articles, and information available on the internet is how to use Dark Pools for higher profits. The reason why Dark Pool technical patterns aka footprints are not yet part of the Technical Analysis standard of teaching is that these are NEW candlestick patterns.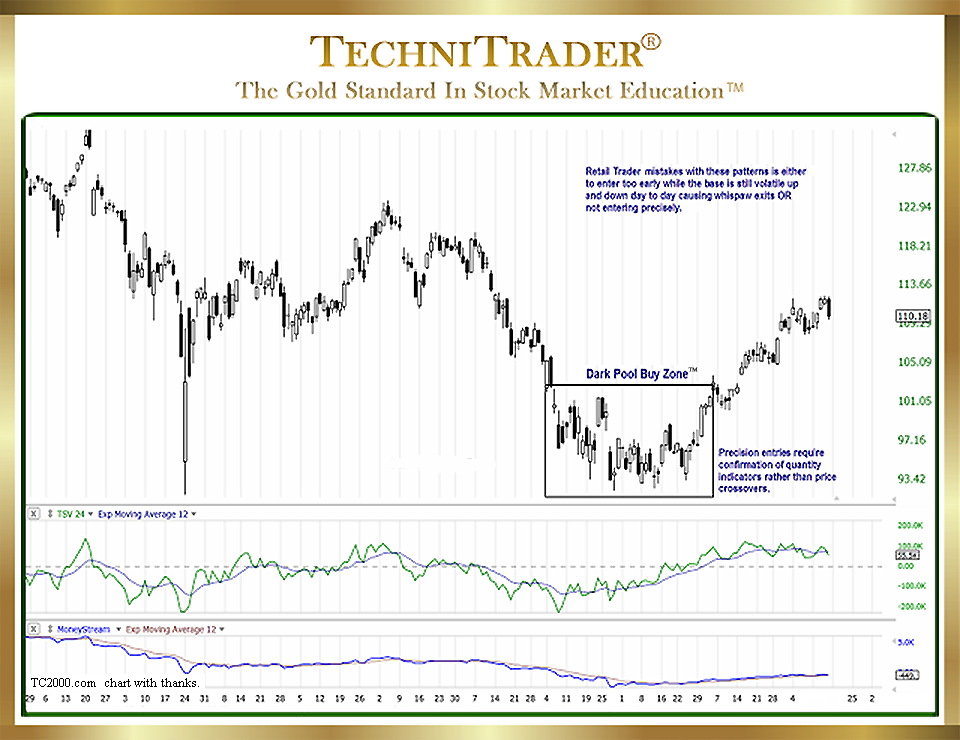 One of the more common footprints happening is the "Basing Bottom Formation", which is a brand-new type of Bottoming Formation. The key element in this pattern is to identify the Dark Pool Quiet Accumulation before the stock runs up with an early entry.
Dark Pools did not exist in the 1980s, 1990s, and early 2000s. These are relatively new trading venues for the giant Buy Side Institutions who demanded obscurity due to the rise of the High Frequency Traders (HFTs) in the mid-2000s after the switch from fractions to decimals.
Basically, High Frequency Traders morphed out of the Small Order Execution System (SOES) Bandits during the rouge Floor Traders era.
Volume Weighted Average Price (VWAP) orders trigger on rising stock Volume, which then triggers more and more orders. Time Weighted Average Price (TWAP) orders are appropriate for Dark Pool Quiet Rotation™ and Dark Pool Quiet Distribution, as well as Dark Pool Quiet Accumulation.
LEARN MORE at TechniTrader.Courses
Trade Wisely,
Martha Stokes CMT
TechniTrader technical analysis using a TC2000 chart, courtesy of Worden Bros.
Chartered Market Technician
Instructor & Developer of TechniTrader Stock & Option Courses
Copyright ©2017–2023 Decisions Unlimited, Inc. dba TechniTrader. All rights reserved.
TechniTrader is also a registered trademark of Decisions Unlimited, Inc.