Time Segmented Volume a Bottoming Stock Formation Indicator
Enter Stocks Earlier for Swing Trading Gains
One of the tougher technical patterns to determine is when stocks are going to stop trending down and begin Bottoming Stock Formations. This is especially important for Swing Traders as most bottoms have periods of momentum action as energy builds up due to larger-lot buying. The larger-lot buying is a form of liquidity taking, which triggers High Frequency Trading action and big velocity runs.
See the chart example below with the Time Segmented Volume (TSV) indicator in the bottom chart window showing a U Bottom for this stock.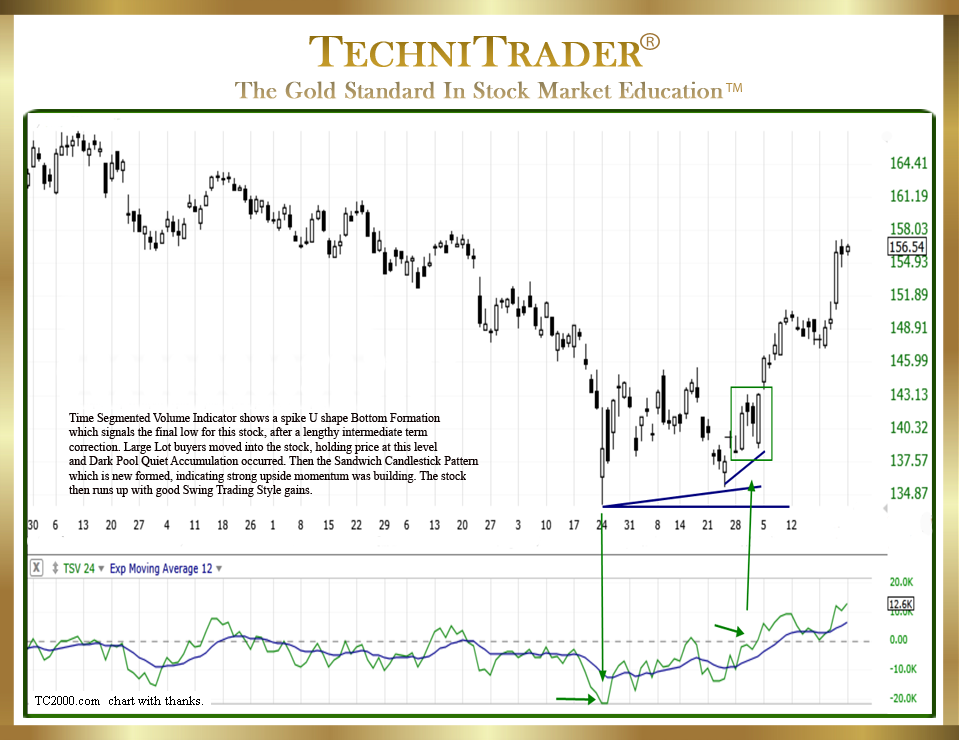 Being able to identify when a stock has reached that final low is often challenging when only using traditional stock indicators and price action. When a trader incorporates more stock Volume Indicators, a final low can often be identified sooner, allowing for time to prepare for the velocity runs out of a bottom.
One of the best Hybrid Volume Oscillators to use in order to find the final bottom low is Time Segmented Volume because it has a tendency to show a bottom V, W, or U pattern since it is a Line Indicator. Time Segmented Volume also oscillates via a center line, which adds additional easy-to-read patterns for the beginner to novice trader.
Time Segmented Volume is a particularly strong indicator because it has all 3 pieces of data in the formula and is a Cumulative Indicator rather than an indicator based on Moving Averages. This empowers the analysis with stronger signals and far more reliable entries for the momentum trade.
LEARN MORE at TechniTrader.Courses
Trade Wisely,
Martha Stokes CMT
TechniTrader technical analysis using a TC2000 chart, courtesy of Worden Bros.
Chartered Market Technician
Instructor & Developer of TechniTrader Stock & Option Courses
Copyright ©2017–2023 Decisions Unlimited, Inc. dba TechniTrader. All rights reserved.
TechniTrader is also a registered trademark of Decisions Unlimited, Inc.