Stock Chart Platform Compression Patterns for Early Entries
Trade with Professional Traders for Higher Profits
The stock chart example below recently had a strong "Pop Out of the Box" Candlestick Pattern after a Platform Compression Pattern. Preceding the compression, the price action was a Trading Range.
Oftentimes, Trading Ranges compress into a tighter formation when Dark Pool Quiet Accumulation is underway. This run is dominated by Professional Traders using Technical Analysis.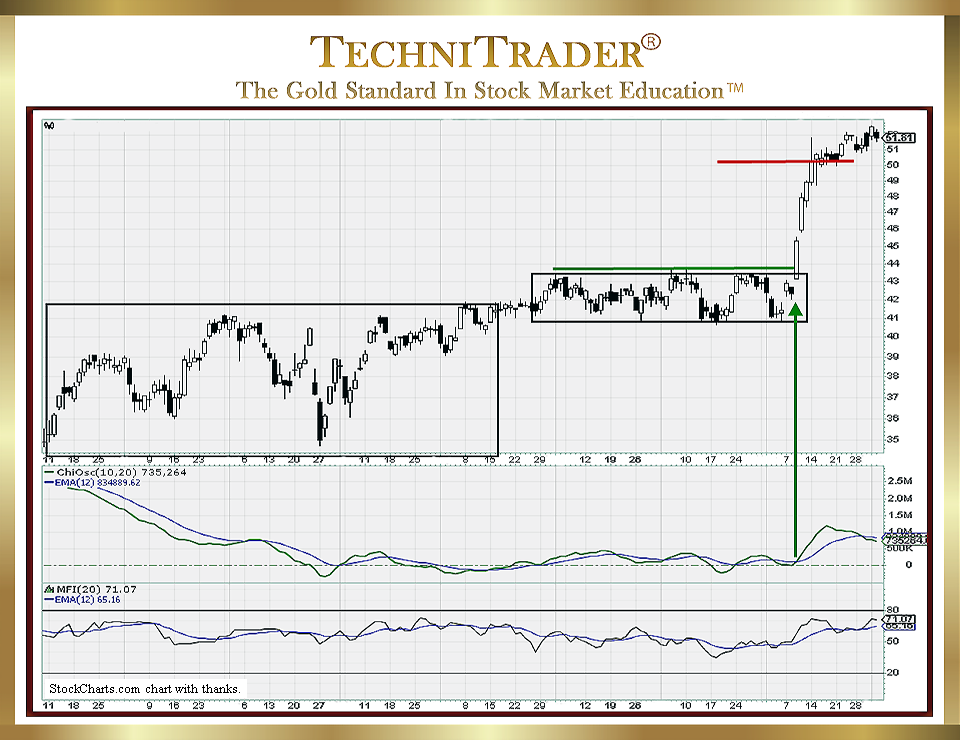 A crossover confirmation of both the Chaikin Oscillator (ChiOsc) indicator (which is a stock Volume Oscillator) and the Money Flow Index (MFI) indicator reveals the strength of the breakout.
It is easy to trade with the Professional Traders, as they are not emotional, set precise entries and exits, and have fewer wicks and tails on candlesticks. The Market Condition for Platform Candlestick Pattern Formations occurs when the Buy Side Institutions have ample capital to accumulate more stock for their Mutual and Pension Funds.
Whenever there is a huge Flow of Funds into Mutual Funds, patterns like this quickly develop. The key is the entry, which must be calculated on the Platform Compression Pattern magnitude, and its probable conclusion.
Not all compression patterns compress tightly before the breakout. This is a velocity run, and these frequently do not have a triangular compression before the breakout as do momentum runs.
Velocity runs are the footprint of Professional Traders, who are often buying in just prior to the breakout. Stock Volume patterns confirm heavy concentrations of Professional Traders rather than High Frequency Traders (HFTs).
LEARN MORE at TechniTrader.Courses
Trade Wisely,
Martha Stokes CMT
TechniTrader technical analysis using a StockCharts chart, courtesy of StockCharts.com
Chartered Market Technician
Instructor & Developer of TechniTrader Stock & Option Courses
Copyright ©2017–2023 Decisions Unlimited, Inc. dba TechniTrader. All rights reserved.
TechniTrader is also a registered trademark of Decisions Unlimited, Inc.