How Does Stock Fundamental Support Form?
By Dark Pool Candlestick Pattern Platforms
Fundamental Investors and Traders are the Buy Side Institutions, who use Dark Pools to buy and sell large to giant lots and block orders. Often trading short-term are the Sell Side Institutions and Smaller Funds. Small-Lot Retail Investors are negligible and tend not to create support levels. Fundamental Support forms when heavy concentrations of large to giant-lot orders move into a stock and the Buy Side Institutions take control.
See stock chart example #1 below.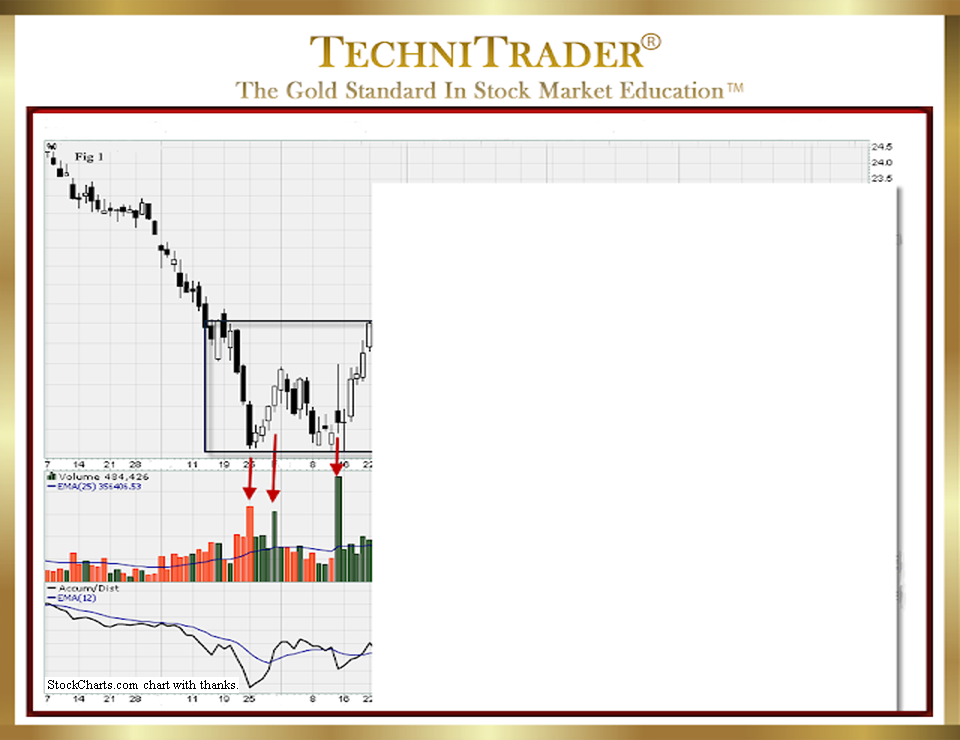 This stock has a huge institutional interest with over 90% of its outstanding shares held by institutions. Therefore, the influence of the Dark Pool Quiet Accumulation will show clearly on its chart.
Fundamental Support is present from the onset of the final move down. The initial light accumulation occurs as the stock moves up in the downtrend. This is NOT Buy the Dip. This is early bargain hunting by either Buy Side Institutions or Sell Side Institutions whose intent is a long-term position.
The moment the stock drops into a prior Dark Pool Buy Zone™, accumulation commences; this is the beginning of how Fundamental Support forms. The stock dropping into a prior predefined Buy Zone initiates a series of hidden events. Time Weighted Average Price (TWAP) orders trigger automatically as the stock drops. The final spiking downside stock Volume is the trigger, as well as the Price. The Accum/Dist indicator hits the bottom of the chart window as an early signal that heavier concentrations of accumulation have halted the downtrend abruptly. Even High Frequency Traders (HFTs) fail to sell it down further.
The first two days pull liquidity and move price modestly, but still within the Buy Zone range. This is followed by another up day and an upward spike of stock Volume. Then, again High Frequency Traders and Technical Professional Traders chase the Dark Pool liquidity draw. Stock Volume drops sharply on the final run up day.
LEARN MORE at TechniTrader.Courses
Trade Wisely,
Martha Stokes CMT
TechniTrader technical analysis using StockCharts charts, courtesy of StockCharts.com
Chartered Market Technician
Instructor & Developer of TechniTrader Stock & Option Courses
Copyright ©2017–2023 Decisions Unlimited, Inc. dba TechniTrader. All rights reserved.
TechniTrader is also a registered trademark of Decisions Unlimited, Inc.